Upon waking up, I realized I didn't have any 'work' jeans in my closet. :( I went to the laundry room and luckily there was a pair, in the dryer. I grabbed them and out with them came a brown t-shirt. Okay, that'll
work! So I decided to use this kit since it was still out on my makeup desk. i was in a hurry, or I would have
wetlined.
Face:
BE Foundation - FL/MB
BE Bisque - Orig/Summer
BE Timted FLMV
BE Blush - Rose Quartz
Eyes:
BE Brow Color - DB/MB
BE Prime Time for Eyes
BE Rock Crystal e/c - Dry on Brow Bone and foiled on Lid
BE Gilded Quartz e/c - Crease
BE Smoky Quartz l/s - Drylined Top & Bottom
Clinique High Impact Mascara - Black/Brown
Lips:
BE Full-Color Buxom - Raquel
Don't mind the pink robe! And I did my lipgloss and took pictures, then I took it off to kiss DF (dear fiancé) goodbye! I applied more, at work.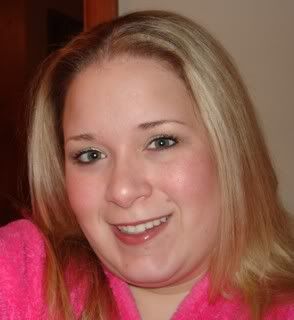 I ordered a few

Emanuel Ungaro

things last
week...
Pure Rose Lipstick
Pastel Emotion Lipgloss
Flower Mist Dew Beauty Powder
Feline Kohl Power (Backup)


CVS
was having all L'Oreal Buy 1 get 1 50% off: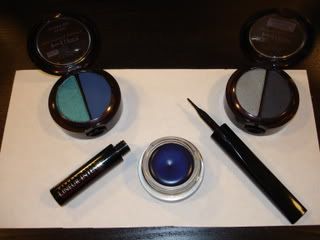 Bright Shadow Duo - Showy
Metallic Shadow Duo - Magnetic
Color Truth Cream Eyeliner - Midnight Blue
Carbon Black Lineur Intense