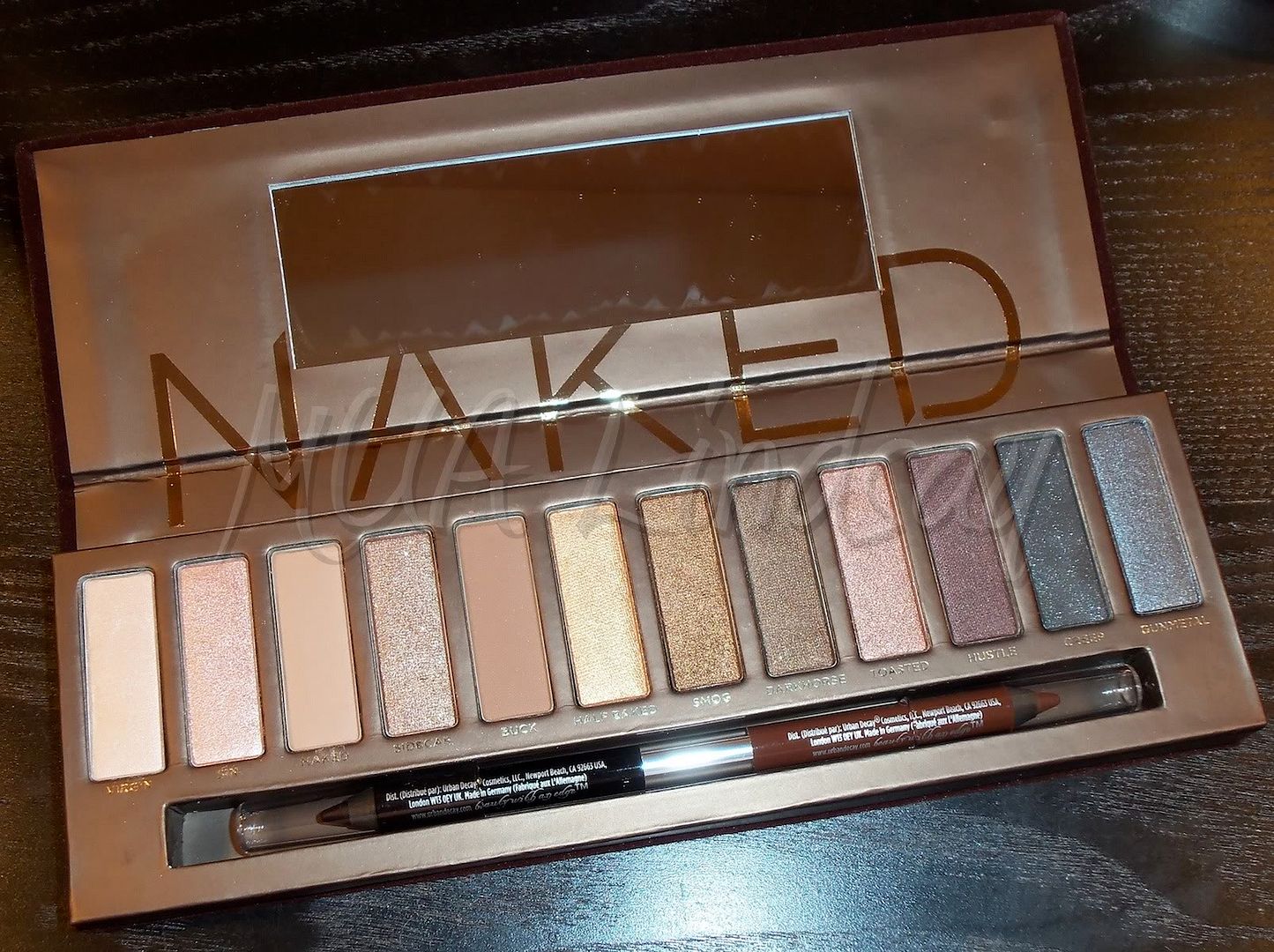 So, I've had the palette for almost 2 weeks and used it 6 times.
just for those, $3.67/ea. - which are almost the same size as their full-size at $17/ea.!
), a dual-ended 24/7 Pencil (Zero/Bourbon) and even a mini Primer Potion, which should last you a long time.
Of course, it's by Urban Decay, who has AMAZING shadows, even if some of them are overloaded with chunks of glitter. ((See my Glitter Shadow
tip
.)) The glitter is something I could do without, however, they can be tastefully applied if you know how to work with them.
Personally, the only con I can see, for myself, would be the lack of Brow Bone shades. Sure, this palette is great for all skin tones, (Fair-Medium: Naked; Tan-Deep: Buck) but, being limited to only one color, I can see that one (
in my case, Naked
) getting used up fairly quick. If you use a light hand, Virgin can be a great Brow Bone color, too, but sometimes it's a bit much to use Shimmer shadows all over. The Matte-ness of Naked or Buck really breaks-up the look and completes it, in my opinion. To "save" your Brow Bone shade, make sure you only apply it there, and not all over (lash to brow) like you might be used to. If you use the Primer Potion, your Lid color should stick to it so no need to layer a shadow underneath it.
A quick word about Urban Decay's Primer Potion
:
This is my most used Primer (I also own Too Face Shadow Insurance and NARS Smudge Proof Eyeshadow Base); and while my original tube is without the crooked doe-foot, I still dig in it to finish it before I decide to pitch it. I don't think it will be worth my time to cut it open, etc, especially when I just bought the Professional Size (which should be permanent!). I have what apparently seems to be super oily eye lids. I have to LAYER my primers and this is why you find me usually using a MAC Paint Pot
on top
of my UDPP. If you don't have MAC Paint Pots, or don't want the added color, try using 2 layers of UDPP, if your shadow seems to crease with just one. I find this works well, too. Just be sure to let your first layer dry a bit before the second. I usually do my eyebrows while the first is setting.
A quick word about Urban Decay's 24/7 Liner Pencils
:
I haven't tried the lip pencils, but find the eye pencils very good for my top or bottom lash line. For my waterline, not so much. I don't find they show up near as pigmented (which is part of the reason I bought colors besides black) and you really have to make sure you waterline is dry before applying, or they just won't show up. Honestly, I don't even try to use them on my waterline anymore. Urban Decay does say they can be used for the waterline (inner lid) so maybe they do work for some, just not me.