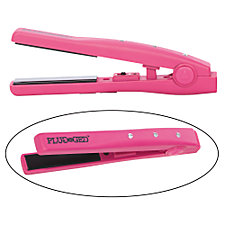 I picked
this
up from Sally's Online, a couple weeks go, when they emailed me an offer to get it for $10! I had to pay about $7 for shipping, but what-the-hey, I figured I'd try it, along with
these
.
It's a tiny little guy, that's for sure! It just has an on/off switch and no swivel cord, but I find it heats up fast, gets hot and does the job I figured it would do. Now, my hair isn't super curly, coarse or thick, but I do have quite a bit of it. On "easy" days I like to dry my hair with a vent brush and blow dryer and sleep on it, get up, flat-iron. I don't curl it under or flip it out, when it's this length, but I am certain that could be done with this 'lil booger. I tried it out, with success, upon arrival.
Today, I was uber-lazy and quickly dried my hair before bed with plans to get up and flat iron. Well, time escaped me, okay, so I was too lazy to get out of bed. I packed this up with a couple combs, a clip, scrunchie and a mirror, into my lunch box, hehe. No one is at work while I am, so I popped into the bathroom and plugged it in. I let it heat up while I got my nightly mug of water. I got back a couple minutes later and started my hair. It does take smaller sections, hello, the plate is A LOT smaller, but don't take too small, especially with fine hair or it might pull, even though I'm not sure where it gets caught up. Anyways, it took me dead-on, 20 minutes. I swear, it takes that long with my 1" CHI. Heck, it takes me 20 minutes to blow out my hair with a round brush, almost that long with a vent brush. Even my make-up takes 20 minutes!
So yea, this is FOR SURE going in my bag for my Honeymoon in Vegas! 5 Weeks! Eek! I really ought to start a list of what to pack... but hair tools will only include this and my 1 1/4" curling iron. :o) Thank heavens for Hotels having Hair Dryers! At least the Hotel better have one!!! I know they used to and it was a pretty good one, but I read that from a post a couple of years ago. Anyone know if the MGM Signature still have Hair Dryers in the rooms????