Yep, slightly late, but I just kept forgetting they were on my digi cam, plus working 10 hour days has confused me.
I really loved this look in the Sephora Catalog: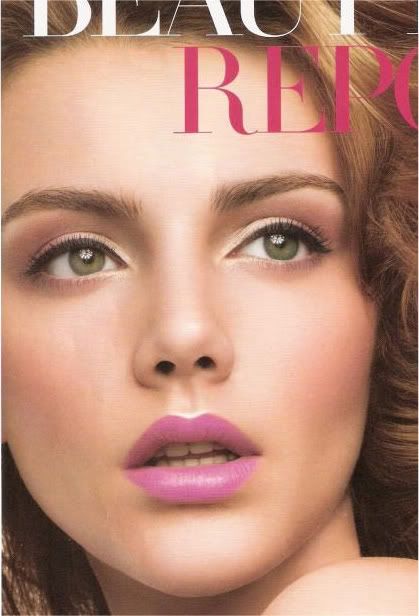 I was sad to see Sephora didn't list what they used, so I did my best to recreate it. I was happy with all of it, except the durn lipstick. Can you believe I didn't have anything close?! MAC's Lipgelee in Preppy is the prefect color... in the tube, but of course it's not as pigmented and it's sparkly.
Face:
Clinique Pore Minimizer T-Zone Shine Control
Studio Fix Fluid - NC15
Select Moisture Cover - NW20
Studio Finish Concealer - NC20
Invisible Set Powder
NARS Sin Blush
NARS Laguna Bronzer
NARS Albatross Highlighter
Eyes:
MAC Shadows - Omega, Wedge & Espresso (Brows)
UDPP
MAC Paint Pot - Painterly
MAC Shadows:
- Blanc Type (Brow Bone)
- Grand Entrance (Inner Half of Eyelid)
- Maira's Mood (Outer Half of Eyelid)
- French Cuff (Crease)
MAC Fluidline - Blacktrack
Studio Fix Mascara - Black Fix
Lips:
MAC Lipstick - Lickable
MAC Lipgelee - Preppy