Well, I did like 3 vids tonight, so I'll have to edit them all in the AM and get them uploaded. :o)
The first video I did on blowing my hair out. Not that it was requested, but I love the turnout and I'm so pleased I figured out a routine that works for me, and it might just help someone else.
The 2nd was on tonight's looks, I'll get to that in a second...
The 3rd was a "What's in your Bag" Tag... I was tagged by Brittney, but it looks like her account is missing. :o( Anyways, I'm not sure who I'm tagging yet, but I did the vid, it's kinda boring, haha.
I was going to do a Haul Vid, however, I was running out of time, and thought I'd just tell ya'all what I got from MAC last week: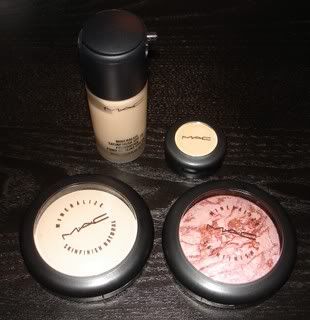 Mineralize Satinfinish Foundation NC25
Mineralize Skinfinish Natural Medium
Mineralize Skinfinish Petticoat
Studio Finish SPF 30 Concealer NC20
I love it all!!!
Okay, back to today's look... I was inspired by
magi's post
... now I'm sure it's not as good as hers, but I love the results. I wish I had more time to pick out a better lippie, though.
Face:
MAC Mineralize Satinfinish Liquid - NC25
MAC Mineralize Skinfinish/Natural - Medium
MAC Mineralise Skinfinish - Petticoat
MAC Sculpt & Shape - Accentuate/Sculpt
Eyes:
Anastasia Brow Ex-Press - Blonde
Urban Decay Primer Potion (UDPP)
MAC Metal-X Eye Shadow - Plum Electric (All over Lid and into Crease)
MAC Pigments:
- Violet (Wet: Inner 2/3's of Lid & Dry: Inner 2/3's of Lower Lid)
- Deep Purple (Wet: Outer 1/3 of lid and into Crease & Dry: Outer 1/3 of Lower Lid)
- Pink Opal (Wet: Inner 1/6 of Lid & Dry: Inner 1/6 of Lower Lid)
- Naked (Dry: Brow Bone and blended down into Purples)
MAC Fluidline - Blacktrack (Upper Lash Line)
MAC Kohl Power - Feline (Waterline & Tightline)
Dior Diorshow - Black
Lips:
MAC Dazzleglass - Pleasure Principle